Save the Date: NOVIC Field Day in New York
Date:
Wed, 08/21/2019 (All day)
Save the date to join NOVIC collaborator Michael Mazourek and his team for a field day on August 21, 2019. The event will be held at the Cornell Cooperative Extension Station located at 99 North Broad Street in Norwich, NY. Details TBD.
Funding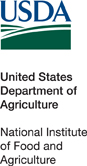 This project was funded by the Organic Research and Extension Initiative grant, part of the USDA National Institute of Food and Agriculture. Awards 2009-51300-05585 for NOVIC I (2009-2013), 2014-51300-22223 for NOVIC 2 (2014-2018) and 2018-51300-28430 for NOVIC 3 (2018-2022).