Carrot Improvement for Organic Agriculture (CIOA) is a long-term breeding project that addresses the critical needs of organic carrot farmers by developing orange and novel colored carrots with improved disease and nematode resistance, improved weed competitiveness, and improved nutritional value and flavor. This four-year project will also compare the relative performance of breeding... Read more
Events
Join CIOA for this one-day classroom and field based workshop on organic varietal development and seed production.
Save the date to join the CIOA team on August 24th, for a daylong field day and celebration dinner at University of Wisconsin-Madison.
This interactive mixer to build community and increase collaboration between plant breeders, farmers, and eaters is not to be missed!
Funding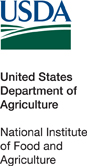 This project was funded by the Organic Research and Extension Initiative grant, part of the USDA National Institute of Food and Agriculture. Award # 2016-51300-25721: CIOA 2- Carrot Improvement for Organic Agriculture With Added Grower and Consumer Value