Plant Disease Suppression by Single vs. Mixed Species Cover Crops
Submitted by sunjeong.park on Fri, 06/01/2012 - 05:42
Sun-Jeong Park, Department of Plant Pathology, The Ohio State University, OARDC, Wooster, OH
Fulya Baysal-Gurel, Department of Plant Pathology, The Ohio State University, OARDC, Wooster, OH
Kate Everts, Department of Plant Science and Landscape Architecture, University of Maryland, College Park, MD
Christine Smart, Department of Plant Pathology and Plant-Microbe Biology, Cornell University, Geneva, NY
Sally Miller, Department of Plant Pathology, The Ohio State University, OARDC, Wooster, OH
Brian McSpadden Gardener, Department of Plant Pathology, The Ohio State University, OARDC, Wooster, OH
Introduction
Incorporation of cover crops or green manures can enhance soil quality and crop productivity in a variety of ways. In the short term, leguminous cover crops can reduce fertilizer costs by providing additional nitrogen and serving as temporary plant nutrient storage. Other cover crop species can help to prevent nutrient leaching and water contamination or suppress weed development. In the long term, cover crops can improve soil structure by adding organic matter. Better soil structure can further increase water infiltration, reduce surface runoff, and build better tilth. When cover crops are properly chosen and well managed, these multi-faceted benefits can help increase yields and profit to growers.
Additionally, cover crops can contribute to effective plant disease management. Generally, there are three different mechanisms involved when using cover crops in plant disease suppression. The first is using cover crops as a physical barrier against plant pathogen dispersal or contact on plants. In this case, the cover crop is managed as either living mulch or replacement of conventional mulch such as straw or plastic. Second is using cover crops as 'biofumigation' tool. Certain cover crops such as mustards and radishes (Brassicas) produce biotoxic chemicals, and thdecomposition of such cover crop biomass in soil can reduce soilborne pathogen. The last mechanism is using cover crops as substrate for a soil microbial community and leads to a shift in the community structure, enriching beneficial bacteria in rhizosphere.
Interest in using mixed species cover crops comes, in part, from the potential added benefits that different cover crops can provide. For example, mixes of grass and legume cover crops may provide soil erosion prevention (through fast establishment of grass) and adequate plant nutrient supply (additional nitrogen supply from the legume), and balanced carbon to nitrogen ratio achieved through a grass and legume mix (Ranells and Wagger, 1997).
Adoption and Use of Cover crops for Disease suppression
At The Ohio State University's OARDC, in concert with investigators throughout the region, the effects of mixed species cover crops on plant disease suppression are being investigated in a systematic way (description of the project is below in more detail). Initially, a questionnaire was developed to identify gaps in organic vegetable farmer knowledge regarding soilborne disease management and cover crops. The majority of the participants were certified organic vegetable producers (70.9%). About half of the participants produced more than 10 different types of vegetables, and about 47% of participants listed tomato as their main crop in terms of income. Over 75% of participants agreed that disease management is one of the challenges they face in organic farming. Over 65% of participants were utilizing cover crops and the majority of them (~70%) applied a mixed species grass/legume cover crop. Over 75% of participants indicated that they think cover crops help with soilborne diseases. Some of the factors that participants strongly agreed as 'contributing factors for the severity of soilborne disease are 1) pathogen spread on susceptible crops, 2) organic matter content, 3) standing water and poor drainage, 4) nutrient levels, 5) temperature, and 6) soil pH and soil type. Most of participants strongly agreed that using a cover crop could reduce erosion, increase diversity of soil organisms, improve soil and water quality, improve nutrient cycling efficiency, enhance beneficial microbial populations and improve crop productivity. However, seed cost, appropriate equipment, yield loss incurred from delayed planting of main crops, shortened growing period, fuel costs, germination and establishment problems, labor availability/costs and reduced cropping options were indicated as challenges to using cover crops.
Here, we review the effects of different cover crops on plant disease control based on results from field trials. Mainly, the effects of using single versus mixed species cover crop will be described with different plant disease control mechanisms involved with each type.
Modes of Plant Disease Suppression Using Cover Crops
1. Physical Barrier
Using cover crop as a living or killed mulch can be effective in controlling soilborne fungal pathogens. By providing ground cover, the cover crop can act as a physical barrier against pathogen dispersal between soil and foliage of the main crop.
In no-till farming systems, cover crops can be utilized as a living mulch. Sudangrass as a living mulch reduced dispersal of Colletotrichum spp. (which cause anthracnose on many crops) conidia compared to bare soil under simulated rainfall events (Ntahimpera et al. 1998). Tall and densely established grass, however, tended to increase the conidia dispersal than short and less densely established grass. Use of wheat as a cover crop also was found to be effective on limiting splash dispersal of Phytophthora capsici and consequently reduced the disease severity on bell pepper (Ristaino et al. 1997). Additionally, the use of crimping can be used to kill or restrict the growth of the cover crops while retaining the benefits of a physical barrier. For example, densely grown tall rye has been shown to work best as mulch when it's crimped or rolled (Virginia Cooperative Extension, 2006). When crimped, rye provided long-lasting soil cover and had weed suppression without herbicide or with reduced herbicide application (Mischler et al. 2010). The effects of crimped mulch on disease suppression have not been studied, however, similar to the examples of cover crop living mulch, crimped cover crop would reduce pathogen dispersal and contact between the main crop to soil by providing soil cover.
In tilled systems, too, cover crops can provide disease control in certain instances. For example, the effects of spring- or fall-sown cover crops on fusarium fruit rot on pumpkins were tested in a two-year trial at multiple locations in Ohio (Wyenandt et al. 2011). Tested cover crops were medic which was spring-sown and kept as living mulch, oat spring-sown but killed and left on the soil surface as mulch, winter rye as a fall-sown cover crop. Regardless of seeding time or type of mulch, cover crop reduced fusarium fruit rot damage compared to bare soil with regular fungicide treatment. Most notable improvement of fusarium fruit rot control was resulted from winter rye, 80% disease reduction compared to bare soil with regular fungicide application. The winter rye of cover crop was most effective because of the highest ground cover achieved (85%). Similarly, in three-year trials in Maryland, pumpkin grown on no-till hairy vetch showed significant disease reduction (36% less plectosporium blight, 50% less black rot) compared to conventional tiled bare soil (Everts 2002). The ground cover and disease reduction were negatively correlated, indicating that the cover crops were effective in controlling soilborne plant diseases by serving as a physical barrier between soil and pumpkin fruit.
The effects of rye-hairy vetch mixed cover crop as mulch were also examined in the two studies mentioned above (Wyenandt et al. 2011 and Everts 2002). In the study by Everts (2002), rye-hairy vetch not only contributed most effective disease suppression, but resulted in higher pumpkin yield. However, the multifaceted contribution of the legume-containing mixes should be recognized.
2. Biofumigation
Brassica spp. includes radish, canola, rapeseed, and various mustards that are unique in their ability to control disease through biofumigation. Brassica spp. produce sulfur containing compounds, glucosinolates and break-down products of these compounds, isothiocyanates are biotoxic to many plant pathogens. Brassica spp. as cover crops have been shown to successfully reduce soilborne plant diseases caused by a variety of fungi and nematodes.
Magnitude of disease reduction by brassica cover crops is influenced by the type of brassica and plant pathogen. In potato, four different brassica cover crops (canola, rapeseed, yellow mustard and Indian mustard) along with ryegrass were tested in fields with different plant disease histories (Larkin and Griffin 2007). In general, all the brassica and ryegrass cover crops improved disease control compared to the standard oat-potato rotation. In particular, Indian mustard was most effective showing approximately a 40% reduction in disease severity and incidence. Magnitude of disease reduction varied with types of brassica cover crop as well as target pathogen. Indian mustard was most effective against common scab (caused by Sterptomyces scabiei), whereas canola and rapeseed were effective against black scurf (caused by Rhizoctonia solani).
Particularly, tested in field scale, the effects of brassica cover crop on plant disease suppression may be varied depends on the environmental conditions. With lettuce, white and Indian mustard, and broccoli were tested as cover crops in commercial farms in California for two-field seasons (four lettuce cropping cycles), but there was no difference in lettuce drop incidence compared to fallow (Bensen et al. 2009). Only in a separate short-term experiment (one lettuce cropping period) was lettuce drop incidence reduced in mustard grown plots compared to fallow. In laboratory experiments, glucosinolate derived isothiocyanates were toxic to soilborne fungal pathogen, Sclerotinia minor, which causes lettuce drop. However, effects of glucosinolate producing Brassica on lettuce drop were not clear in the field trials. Inconsistent results from the field trials, in part, may be due to insufficient glucosinolate conversion to toxic isothiocyanates. The conversion process is highly influenced by many factors including soil moisture and Brassica biomass decomposition.
Plant disease suppression by Brassica probably results from more than the immediate biofumigation effects. Apple replant disease was suppressed by seed meal derived from three different types of Brassica (Brassica juncea, Brassica napus and Sinapis alba), when tested on three different orchard soils (Mazzola et al. 2006). When the three seed meals were applied to soil, root infection by native Rhizoctonia spp. and introduced Rhizoctonia solani were reduced. When the pathogen was introduced 4-8 weeks after the seed meal application, disease suppression was still achieved. However, the suppression was not qualitative or quantitative associated with glucosinolate contents of the seed meals. Biotoxic chemicals from Brassica have short residence times in soil, yet negative effects of Brassica juncea residues on Rhizoctonia solani and Gaeumannomyces graminis lasted much longer (Motisi et al. 2009). Also, reductions of Rhizoctonia solani were not always associated with higher glucosinolate-producing crops (Larkin and Griffin 2007). This suggests that other mechanisms may be involved in plant disease reductions by Brassica cover crops.
Tillage radish, also called forage radish (Raphanus sativus) is a brassica and produces unique deep taproots. Tillage radish has been receiving attention as cover crop, due to its effective winter weed suppression and soil improvement through relieving compaction. However, its effects of plant disease suppression have not been investigated in a systematic way. Forage radish cover crop seems to reduce plant parasitic nematode pressure in soil by increasing bacteria-feeding nematode populations (Gruver et al. 2010). However, disease pressure from the nematodes was not directly investigated in the study.
3. Development of Suppressive Microbial Communities
The soil microbial community is involved in many aspects of plant disease development. Pathogen survival, population dynamics, and colonization of the rhizosphere are all influenced by interactions of diverse microorganisms and plants. When incorporated into soil, cover crop biomass serves as a substrate for growth of different soil microorganisms. Depending on the quantity and quality of the biomass, shifts in the structure and activities of the soil microbial community can be observed. Cover crop biomass serves as a substrate for microorganisms that may contribute to the direct and indirect suppression of soilborne plant diseases.
The following three studies demonstrate how single species cover crops contribute to plant disease suppression by shifting the general soil microbial community or specific group of microorganisms.
Some cover crops can enrich non-pathogenic fungal populations in soil, thus increased competition from non-pathogenic fungi can lead to disease reduction. Sudangrass cover crop reduced Verticillum wilt severity (caused by Verticillium dahliae Kleb.) on potatoes and increased yield (Davis et al. 2010). This occurred even though a number of propagules of V. dahliae in the soil was similar. Reduced infection by the pathogen was correlated to an increase in non-pathogenic Fusarium spp. population size in the soil. Root colonization of non-pathogenic fungi likely prevented pathogenic fungal colonization on potato, thus reducing infection.
In another case, cover crop biomass enriches general soil bacterial populations; the increased competition from higher bacterial populations may lead to disease reduction. When a hairy vetch biomass was amended to soil, Fusarium wilt incidence (caused by Fusarium oxysporum f. sp. niveum) on watermelon was reduced by 20-60% compared to non-amended soil (Zhou and Everts, 2007). With hairy vetch amendment, the density of F. oxysporum f. sp. niveum in soil did not change. However, hairy vetch amendment increased the number of culturable bacteria in the soil. In addition, the number of bacteria and hairy-vetch induced Fusaium wilt suppression was positively correlated. This suggests that an overall increase of bacterial biomass in soil may have resulted in competition for nutrients and root colonization.
Incorporation of certain cover crop biomass resulted in enrichment of a specific group of microorganisms, which have antagonistic activities against a target plant pathogen. In a two-year field trial in Minnesota, a buckwheat cover crop treatment reduced verticillium wilt compared to a fallow treatment (Wiggins and Kinkel, 2005). With the cover crop treatment, the density of antibiotic producing beneficial bacteria streptomycetes was not affected. However, the proportion of streptomyctes which were antagonstic against Verticillium dahliae (that showed clear inhibition zone when challenged against pathogen in vitro assays) was higher in buckwheat compared to fallow. Similar results were found following buckwheat and sorghum-sudangrass cover crops between streptomycetes and Fusarium graminearum, which causes Fusarium head blight in wheat (Perez et al. 2008).
Many studies have established that plant diversity has an influence on soil microbial community structure (Zak et al., 2003; Bartelt-Ryser et al. 2005). It is also hypothesized that mixed species cover crops can provide a unique mix of substrates to the soil microbial community increasing diversity of the community or enriching potential biocontrol agents against plant pathogens.
Effects of a single or diverse plant species community on antagonistic streptomycetes populations were compared (Bakker et al. 2010). Tested plants are not the typical cover crop, however, this study illustrates how single versus mixed species cover crop may have differential influence on soil microbial community. After growing monoculture (rotation of soybean, sorghum and winter wheat) and natural Kansas prairie were maintained for three years and streptomycetes from soil were cultured. Following isolation, streptomycetes were characterized for their antagonistic activities against Fusarium graminearum, Rhizoctonia solani, Verticillium dahliae and Streptomyces scabies. The overall frequency of antagonistic streptomycetes, or intensity of antagonistic activity, was not different from the source of isolates: mono- vs. prairie. However, three of inhibitory phenotypes from prairie grown soil showed much stronger pathogen suppression compared to the same phenotypes from monoculture grown soil. This may indicate that divergence of native streptomycete populations is in progress in the two different systems.
A mixed-species hay cover crop (including festulolium or rye fescue, alfalfa, red and white clover, timothy, chicory, orchardgrass and plantain) was found to be effective in enriching a group of general antagonistic bacteria. When mixed-species hay was utilized as an organic transitional strategy, it was shown to significantly reduce damping-off on tomato and edamame soybean in multiple greenhouse and field experiments compared to other fallow treatment (Baysal et al., 2008). Using soil microbial community fingerprinting method, terminal restriction fragment length polymorphism (T-RFLP) of amplified 16S rDNA sequence, two bacteria were found to be consistently associated with damping-off suppression in mixed-hay grown soil (Benitez et al. 2007). These bacteria were more abundant in disease suppressive systems; however, they also were present in the disease conducive systems. This indicates that these bacteria are involved in rather general disease suppression that occurs mainly through overall effects of microbial community such as competition for resources. Two novel bacterial species, belonging to the genera Mitsuaria and Burkholderia, were isolated using marker-assisted screening from this mixed-hay grown soil (Benitez and McSpadden Gardener, 2009). In vitro- and seedling assays, these two types bacteria showed strong antagonistic activities against multiple fungal and oomycete plant pathogens. Such studies show how investigations of microbial community structure can lead to the identification of the microbial populations contributing to soilborne disease suppression.
In an ongoing study, effects of a mixed species cover crop compared to a single species cover crop on plant disease suppression were investigated in a more systematic way. Parallel field experiments were conducted in Oho, Maryland and New York. Fall-sown single vs. mixed species cover crops were incorporated into soil the following spring (Figure 1). In Ohio, all the cover crops were over-wintered and their biomass increased further in the spring, except tillage radish, which was completely winterkilled leaving bare ground (Figure 2). About 4 weeks post cover crop incorporation, tomato cv. Celebrity was transplanted as a main crop. In Ohion, effects of added fertility through compost amendment were also tested (Figure 3). The effects of the cover crop on plant disease were monitored in two-year experiments.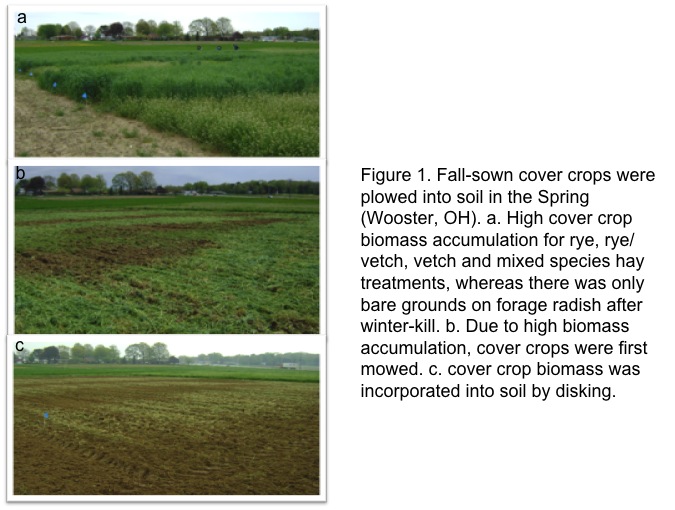 Photo credit: Sun-Jeong Park, The Ohio State University/OARDC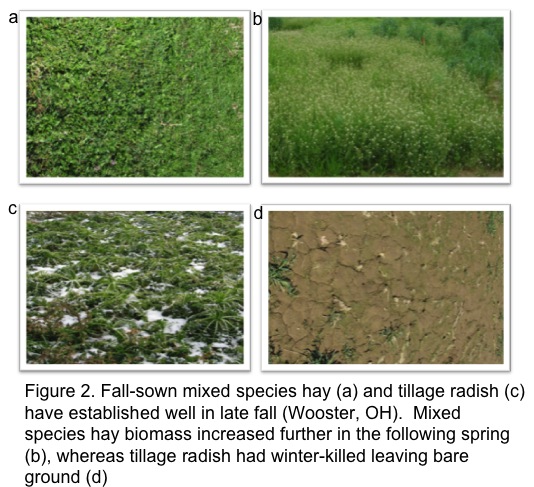 Photo credit: Sun-Jeong Park, The Ohio State University/OARDC
Photo credit: Sun-Jeong Park, The Ohio State University/OARDC
In 2010, a mix of rye and vetch cover crop showed slightly less severe bacterial spot diseases compared to either rye or vetch alone, but the pattern was different with early blight. In 2011, tomato plants were challenged with bacteria spot pathogen (Xanthomonas euvesicatoria) and disease development was monitored. Again, tomatoes grown on mix of rye and vetch cover crop incorporated field showed less disease symptoms compared to single spp. rye or vetch plots. However, based on the two-year field data, the disease suppression on rye and vetch cover crop incorporated fields was only marginally improved compared to single spp. rye or vetch treatments. Similarly, in 2010 in Maryland, tomatoes grown on rye and vetch-incorporated soil showed less severe Early blight compared to vetch only cover crop. Again, in 2011 in Maryland, tomatoes grown on plots amended with hairy vetch alone or in combination with rye or forage radish all sustained low levels of early blight, although the levels were not significantly different than in other treatments. This trend was observed in severity of Southern blight (caused by Sclerotium rolfsii) early in the season. However, in New York, there was no clear improvement of disease suppression with rye and vetch mix compared to rye cover crop against phytophthora blight and early blight. Results in New York for 2011 were similar to 2010 and there was no clear improvement of disease suppression of phytophthora blight, early blight, septoria leaf spot or late blight in the rye-vetch combined plots. Two years and six site field experiment results indicate that benefits of using mixed species cover crops for disease management may be minimal compared to single species cover crops in the short term. As a next step of study, the authors are testing synergic effects of biocontrol microbial inoculants with cover crops in the fields.
Acknowledgment
Funding to support the development of these materials was provided by the USDA's Organic Ag­riculture Research and Extension Initiative Grant, 2009-51300-05512.
References and Citations
Bartelt-Ryser, J., J. Joshi, B. Schmid, H. Brandl and T. Balser. 2005. Soil feedbacks of plant diversity on soil microbial communities and subsequent plant growth. Perspectives in Plant Ecology, Evolution and Systemics 7:27-49. (Available online at: http://www.sciencedirect.com/science/article/pii/S1433831904000101) (verified 28 June 2012).
Baysal, F. M-S. Benitez, M.D. Kleinhenz, S.A. Miller and B.B. McSpadden Gardener. 2008. Field management effects on damping-off and early season vigor of crops in a transitional organic cropping system. Phytopathology 98:562-570 (Available online at: http://apsjournals.apsnet.org/doi/abs/10.1094/PHYTO-98-5-0562) (verified 28 June 2012).
Benitez, M-S and B.B. McSpadden Gardener. 2009. Linking sequence to function in soil bacteria: sequence-directed isolation of novel bacteria contributing to soilborne plant disease suppression. Applied and Environmental Microbiology. 75: 915-924. (Available online at: http://aem.asm.org/content/75/4/915.abstract?sid=4e0e243b-de71-42af-962a...) (verified 28 June 2012).
Benitez, M-S., F. B. Tustas, D. Rotenberg, M.D. Kleinhenz, J. Cardina, D. Stinner, S.A. Miller and B.B. McSpadden Gardener, 2007. Multiple statistical approaches of community fingerprinting data reveal bacterial populations associated with general disease suppression arising from the application of different organic field management strategies. Soil Biology and Biochemistry 39: 2289-2301 (Available online at: http://www.sciencedirect.com/science/article/pii/S0038071707001356) (verified 28 June 2012).
Bensen, T.A., R. F. Smith, K.V. Subbarao, S.T. Koike, S.A. Fennimore and S. Shen-Tov. 2009. Mustard and other cover crop effects vary on lettuce drop caused by Sclerotinia minor and on weeds. Plant Disease. 93:1019-1027. (Available online at: http://apsjournals.apsnet.org/doi/abs/10.1094/PDIS-93-10-1019) (verified 28 June 2012).
Davis, J.R., O.C Huisman, D.O. Everson, P. Nolt, L. H. Sorensen, A. T. Schneider. 2010. Ecological relationships of Verticillium Wilt suppression of potato by green manures. American Journal of Potato Research. 87:315-326. (Available online at: http://www.springerlink.com/content/156m87861138g703/) (verified 28 June 2012).
Everts, K.L. 2002. Reduced fungicide applications and host resistance for managing three diseases in pumpkin grown on a no-till cover crop. Plant Disease. 86:1134-1141. (Available online at: http://apsjournals.apsnet.org/doi/abs/10.1094/PDIS.2002.86.10.1134) (verified 28 June 2012).
Gruver, L.S., R.R. Weil, I.A. Zasada, S. Sardanelli, B. Momen. 2010. Brassicaceous and rye cover crop altered free-living soil nematode community composition. Applied Soil Ecology 45: 1-12. (Available online at: http://www.sciencedirect.com/science/article/pii/S092913930900198X) (verified 28 June 2012).
Larkin R. P. and T. S. Griffin 2007. Control of soilborne potato disease using Brassica green manures. Crop Protection 26:1067-1077. (Available online at: http://www.sciencedirect.com/science/article/pii/S0261219406003140) (verified 28 June 2012).
Mischler, R.A., W.S. Curran, S. W. Duiker and J.A. Hyde. 2010 Use of rolled-rye cover crop for weed suppression in no-till soybeans. Weed Technology, 24: 253-261. (Available online at: http://www.bioone.org/doi/abs/10.1614/WT-D-09-00004.1) (verified 28 June 2012).
Motisi, N., F. Montfort, T. Dore, N. Romillac and P. Lucas. 2009. Duration of control of two soilborne pathogens following incorporation of above- and below-ground residues of Brassica juncea into soil. Plant Pathology 58: 470-478. (Available online at: http://onlinelibrary.wiley.com/doi/10.1111/j.1365-3059.2012.02618.x/abst...) (verified 28 June 2012).
Ntahimpera, N., M.A. Ellis, L.L. Wilson and L.V. Madden. 1998. Effects of a cover crop on splash dispersal of Colletotrichum acutatum conidia. Phytopathology 88: 536-543. (Available online at: http://apsjournals.apsnet.org/doi/abs/10.1094/PHYTO.1998.88.6.536) (verified 28 June 2012).
Perez, C., R. Dill-Macky and L.L. Kinkel. 2008. Management of soil microbial communities to enhance populations of Fusarium graminearum-anatagonists in soil. Plant Soil. 302:53-69. (Available online at: http://www.springerlink.com/content/k73811tk0r8q8124/) (verified 28 June 2012).
Ranells, N.N., and M.G. Wagger. 1997. Winter annual grass-legume bicultures for efficient nitrogen management in no-till corn. Agriculture, Ecosystems and Environment. 65:23–32. (Available online at: http://www.sciencedirect.com/science/article/pii/S0167880997000546) (verified 28 June 2012).
Ristaino, J.B., G., Parra and C. L. Campbell. 1997. Suppression of Phytophthora blight in bell pepper by a no-till wheat cover crop. Phytopathology. 87:242-249. (Available online at: http://apsjournals.apsnet.org/doi/abs/10.1094/PHYTO.1997.87.3.242) (verified 28 June 2012).
Schonbeck and Morse. 2006. Cover crops for all seasons. Virginia Association for Biological Farming Information Sheet. (Available online at: http://vabf.files.wordpress.com/2012/03/seasonalcovercrops_sm.pdf) (verified 28 June 2012).
Sustainable Agriculture Research & Education, 2007. Managing cover crops profiltably, 3rd edition. (Available online at: http://www.sare.org/Learning-Center/Books/Managing-Cover-Crops-Profitabl...) (verified 28 June 2012).
Virginia Cooperative Extension. 2006. Introduction to cover crop rolling & the VA-USDA crimper roller demonstration project. (Available online at: http://www.va.nrcs.usda.gov/technical/CropAgronomy/340.html) (verified 28 June 2012).
Wiggins, B.E. and L.L Kinkel. 2005. Green manures and crop sequences influence potato disease and pathogen inhibitory activity of indigenous Streptomycetes. Phytopathology. 95:178-185. (Available online at: http://apsjournals.apsnet.org/doi/abs/10.1094/PHYTO-95-0178) (verified 28 June 2012).
Wyenandt, C.A., R. M. Riedel, L. H. Rhodes, M.A. Bennett and S. G.P. Nameth. 2011. Fall- and Spring-sown cover crop mulches affect yield, fruit cleanliness, and Fusarium fruit rot development in Pumpkin. Hortechnology. 21: 343-354. (Available online at: http://horttech.ashspublications.org/content/21/3/343.abstract?sid=ad016...) (verified 28 June 2012).
Zak, D. R., W.E. Holmes, D.C. White, A.D. Peakcock and D.Tilman 2003. Plant diversity, soil microbial communities, and ecosystem function: are there any links? Ecology. 84: 2042-2050. (Available online at: http://www.esajournals.org/doi/abs/10.1890/02-0433) (verified 28 June 2012).
Zhou, X. G., K. L. Everts. 2007. Effects of host resistance and inoculum density on suppression of Fusarium wilt of watermelon induced by hairy vetch. Plant Disease. 91:92-96. (Available online at: http://apsjournals.apsnet.org/doi/abs/10.1094/PD-91-0092) (verified 28 June 2012).