Drone footage from one of our trial sites
Want a bird's eye view of the tomato trials hosted by our partners at The Evergreen State College? Check it out below!
Funding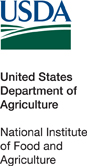 This project was funded by the Organic Research and Extension Initiative grant, part of the USDA National Institute of Food and Agriculture. Awards 2009-51300-05585 for NOVIC I (2009-2013), 2014-51300-22223 for NOVIC 2 (2014-2018) and 2018-51300-28430 for NOVIC 3 (2018-2022).