Instructions for Authors and Videographers
Submitted by alice.formiga on Thu, 04/08/2010 - 16:12
Instructions for Authors of Articles and Videos on eOrganic
About eOrganic
This resource, created by the eOrganic Community of Practice on eXtension.org, is for farmers, ranchers, agricultural professionals, certifiers, researchers and educators seeking reliable information on organic agriculture, published research results, farmer experiences, and certification. eOrganic produces articles, videos, and Webinars on general organic agriculture, dairy production, and vegetable production. The articles are collaboratively authored and reviewed by our community of University researchers and Extension personnel, agricultural professionals, farmers, and certifiers with experience and expertise in organic agriculture. All published eOrganic articles appear on the eXtension website at http://www.extension.org/organic_production. To view all our articles (both published and unpublished), click the Articles link while you are logged in to eOrganic.
eOrganic is organized around groups, who collaboratively author articles and decide on content topics. To join a group, go to the Groups link on the navigation bar, and click Join. Once you are in a group, you can add a new article using the Add Group Content menu on the right of the page.
General Requirements and Scope
eOrganic supports the development of content that communicates research-, regulation-, and experience-based information about commercial organic farming, and publishes it to our public site at eXtension.org where it can be accessed by our stakeholders. Types of content include articles summarizing research-, regulation-, and experience-based information; recorded webinars; videos; annotated bibliographies to useful resources; case studies; and training modules.
eOrganic content is derived from:
Research conducted in conventional ag systems relevant to organic systems
Research conducted in organic systems
Information from farmers/ag professionals/other practitioners that demonstrate best practices on organic farms.
Regulation based information.
Content should be original, i.e. not previously published elsewhere; however, previously published studies can be adapted for a national audience, or summarized for application by our mixed audience of farmers, farm advisors and other researchers. Authors should provide references and links to additional resources.
eOrganic articles should add value, i.e. they should not simply be reproductions of conventional sources with the non-compliant information removed. They should contain information based on practical experience that organic producers and advisors can use, and should include practitioner experience and examples. They should also include current organic systems research information on the topic.
Articles must be well written, with correct grammar and usage, and formatting as described in these instructions must be completed by the author before the article is reviewed. They should be written in a style that is accessible to our diverse audience of farmers, Extension personnel, certifiers, inspectors, nonprofit staff, researchers, and others. In other words, they should not be too technical or assume that readers know what acronyms or scientific terms mean.
Articles that mention materials such as pest control products should be accompanied by a note that readers should check with their certifiers, and state or local government regulations before applying products--we don't want to recommend anything that would endanger the certification status of a reader! The following language can be pasted into the article:
IMPORTANT: Before using any pest control product in your organic farming system:
Read the label to be sure that the product is labeled for the crop and pest you intend to control, and make sure it is legal to use in the state, county, or other location where it will be applied

Read and understand the safety precautions and application restrictions

Make sure that the brand name product is listed in your Organic System Plan and approved by your USDA-approved certifier. If you are trying to deal with an unanticipated pest problem, get approval from your certifier before using a product that is not listed in your plan—doing otherwise may put your certification at risk.
Note that OMRI and WSDA lists are good places to identify potentially useful products, but all products that you use must be approved by your certifier. For more information on how to determine whether a pest control product can be used on your farm, see the article, Can I Use This Input On My Organic Farm?
Terms of Use and Copyright
All articles published on eXtension are covered by eXtension's Terms of Use and is All Rights Reserved by the eXtension Foundation.
All authors must obtain an ID from eXtension at https://people.extension.org/signup.
Where to Create a New Article on eOrganic
Before writing an article on a particular topic, it is important to know if there are already articles published or in draft form on that topic. To peruse eOrganic articles by topic or group, visit the Articles page. The Articles page can be narrowed down by selecting different filters can clicking "Apply". You will then see titles (with links to the articles) of articles in draft or that have already been published. Read through articles related to the article you are considering writing. If there is already an article on that topic, please choose a different topic. If there is an article in draft on that topic, and you think you would like to contribute to that draft, contact the author or authors. All revisions are archived, and an article can be reverted to any former revision. After you finished your contribution, save your work and then leave a comment on the bottom of the page to alert other authors and group members about your contribution.
To add a new article, join the group that best matches your subject area then visit that group and click the "+ Article" link in the "Add group content" menu. This will automatically post that article to that group.
How to Create an Article
After you click "+ Article", you will be prompted to fill out a page of information.
Title - use keywords in your title, capitalize it, and keep it short
Body - enter your content. One way to avoid formatting problems is to type content directly into the body field, rather than copy-and-paste from other documents or resources. However, pasting may save time. The only good way to paste is using the paste as plain text button . Any formatting lost can then be added back to the text using the text editor toolbar. Insert links and images as needed.
Files - You can upload a file here to share. Click Choose File and then Upload once you're ready. Files are not completely attached until you hit SAVE at the bottom of the entire page. Files attached in this way will not be shown when your article is published on the www.eXtension.org website; please link the file in the Body section using these directions under the Document Link heading. Please do not attach the entire article as a file in Word as a substitute formatting the article in the Body.
Notifications - If you check the box for "do not send notifications for this update" an email will NOT be sent to your fellow group members then you create the page. Notifications are not sent upon subsequent Edits. You can read all about what sends a notification email here.
Groups - Your group name should be selected. This will send your group an email to let them know a new article has been created. It will also add a link to your page from the Recent Activity list on your group's home page. You can post the articles to more than one group by using the Ctrl key on a PC or the Command key on a mac to select additional groups.

Vocabularies

- When selecting a Topic you will see that some topics have subcategories. Please select the main catagory and any subcatagories that apply. You can choose more than one category by holding your Control (PC) or Command (Mac) key while you click with your mouse. This way, your article can show up in more than one topic list.
Role Visibility- You can make the page available only to your group members, or visibile to all eOrganic members. There is also the option of making the page visible to the public, but please do not check that box! When the article is published to eXtension, it will be publicly available on that site.Review Process - This is part of the built-in review process. You can select the 'state' of the page—where it is in its development. You can also type in a comment. To see this comment, click on the Workflow tab at the top of the page. This is useful to leave notes to yourself or collaborators about the article's development. To send a general comment to your group about an article use the Add a comment link at the bottom of the page while in View mode.

Click Save
If you like, you can bookmark this page for easy finding later on your Account page by scrolling down to the bottom and clicking "Bookmark this".
Pasting text into an article
To type text into an article, click the Edit tab, and then type into the body section of the article. Then click Save. To paste into eOrganic from Word or Google Docs, use the Paste as Plain Text button in the text editor:
Find the page you want to edit or make a new one.
Click the Edit tab at the top of the page if working on an existing page.
Open your Word document.
Select and Copy the text you want to import (CTRL + C), do not copy images.
Go back to the eOrganic page, click the Paste as Plain Text button in the text editor, a clipboard with a T on it.
A new box will open; paste your text inside this box (CTRL + V).
Click OK.
Finish making the page, click Save at the bottom of the page.
Formatting Guidelines
Formatted Article Example: Organic Management of Late Blight of Potato and Tomato (Phytophthora infestans)
Titles
Names of eXtension articles should be optimized for readers over editors, and for a general audience over specialists. It is important that your title contains the keywords that a person trying to find your article would use in a search. Be specific. Don't use "catchy" titles -- use real words that accurately describe its content. Include the word 'organic' or the words 'organic farming'.
Type the title into the title field only, not into the body of the page.
Introduction and Conclusion
The article should contain an introduction which introduces the main points and the importance of the topic in a readable, engaging, and generally understandable way for a mixed audience of people who may not be familiar with jargon, acronyms, etc. In other words, this should be written in plainer language than the technical and dry language of many scientific journal articles. The article should also conclude in a way that does not leave off abruptly, and research findings should be summarized in a way that practitioners could find useful.
Headings
Capitalize all nouns and most words with four or more letters. Use headings at the start of each section. In the text editor under Format choose Heading 2, for additional subsections use Heading 3. An Introduction heading can be used if you have additional headings on the page.
Paragraphs
Paragraphs should not be indented. Press Return to insert paragraph breaks. To insert a line break rather than a paragraph break, press Shift-Return.
Lists
Use bulleted lists rather than numbered lists unless you are referring to a specific number of options or a specific sequence of items.
Tables
A simple table will often paste in reasonably well from Excel. Select the table with your mouse in Excel, press CTRL-C to copy it to the clipboard, and then paste it directly into the Body using CTRL-V. Make sure the table isn't too wide (maximum 600 pixels). You can't adjust the table very well in the editor so it is best to perfect the table in Excel first. Or, yYou can center the table easily with the editor. If it doesn't work, you can upload the Excel spreadsheet as an attachment to the page (see Attaching a Document to a page) and contact your coordinator for help.
Table of Contents with Links
A table of contents can not be automatically generate, but it is pretty easy to do. Follow the directions on this Help article »
Images
Images must be reduced to a maximum width of 500 pixels (length can be larger) before being uploaded to eOrganic. Many software programs can resize images. You may already have the capablity to resize images using a Mac (open the image using Preview, click Tools, click Adjust Size, and then adjust the width to 500 pixels), or Microsoft Photo Editor or Paint on a PC. The image ideally should not be larger than 100 KB. They must be in an image format such as jpg, png, etc.
Permission must be obtained from the photographer in order to publish images on extension, and the photo credit must be below the image. The photographer's name must also be included as a contributor in the metadata of the article, along with the permission obtained (see metadata.) If an image is yours and you would like to share it and allow others to use it in their eOrganic articles, upload your image to the group image gallery. If the photographer is not a member of eXtension and it doesn't make sense for him or her to join, use the Photograph/Figure License Form to obtain permission to use the photo. The form can be uploaded to the page, or the text of it can be pasted into the metadata under "Permissions".
How to upload an image:
Navigate to the page where you want to insert an image.
Click the Edit tab at the top of the page.
In the Body field, place the cursor where you want the image to appear.
Click on the Insert/Edit Image button in the toolbar.
In the Insert/Edit Image pop-up window, click on Browse Server to open your personal files directory, which will open in a new window.
To upload the image file you want to use, click on Upload and then Browse to locate and select the file on your computer, and then click the Upload button.
Once uploaded, click "Insert" at the top. This will close your personal file directory and take you back to the Insert/Edit window.
In the Insert/Edit Image pop-up window, write a concise description of the image in the Alternative Text field, chose the image alignment you want from the Align drop-down menu. Here, you can also resize the image which should be to a maximum of 500 pixels wide before uploading if you are creating an eXtension article. If you just enter 250 under "width", it will automatically resize your image to the correct proportions. When finished with everything in this box, click OK.

You can adjust the image display size in the Body field by clicking on the image and dragging the handles at the corners of the image.
Click Save when you are ready to save your page.
Figures
To paste a figure, like a graph or diagram, into the body text, you first need to make the figure into an image. The best way to do this is to select the figure, copy it, then paste it into Paint (on a PC). From Paint you then Save it as a PNG or JPG, usually after cropping out any additional white space (either in Paint or a photo editor) or with a screen capture tool like the Snipping Tool. Now you can insert it into your page as an image. See http://eorganic.info/node/776. Make sure the figure is large enough so people can read it. Often, saving the image as a PNG is best, to reduce blurriness. If nothing works, your best bet may be to upload it as a link to a pdf of the table in Excel or Word. See section below on links and contact your coordinator if you need help.
Captions
When referring to content figures in the text, use the abbreviation (i.e., "Fig. 1"); use the unabbreviated form (i.e., "Figure 1.") in figure captions. All photos do not need to be labeled as figures, unless they are specifically referred to as such in the text. In that case, the caption needs to contain the figure number.
When crediting images used, list the name and institution of the photographer in italics, as in the following example.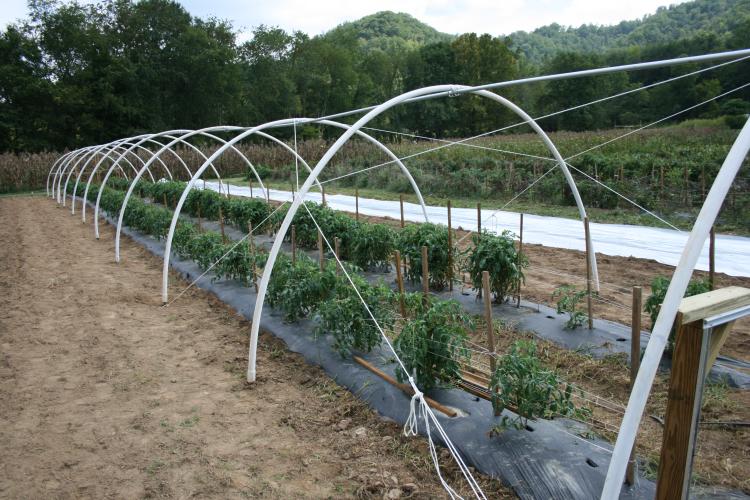 Low cost, movable high tunnel. Photo credit: Tim Coolong, University of Kentucky
Links to other articles, websites, documents or tables
The preferred format for links on eOrganic, and the web, are phrase links. These are formatted as turning a certain string of words into a hyperlink. You can accomplish this by using the link button on the text editor toolbar that you see when you are editing an eOrganic article. You have probably seen these in email and word processing programs as well.
Phrase Link to another eOrganic Article (Internal)
For example, "Therefore, production of tomatoes in high tunnels with drip irrigation should dramatically reduce late blight risk by eliminating the contribution of rain and overhead irrigation to leaf wetness."
How to Create a Phrase Link to an Internal Resource:
Find the page you want to link to, copy the part of the URL following "eorganic.info". For example, for http://eorganic.info/node/1234, copy the bold part using CTRL+C. In this example, copy "/node/1234"
Now go to the page you wish to insert the link
Click on the Edit tab at the top of the page
In the Body field, select the text you want to turn into the link. IMPORTANT STEP!
Click the Insert/Edit Link button ; a window will open
In the URL field, paste your URL using CTRL+V
Click OK
Save the page
Phrase Link to an External Resource

For example, "The Rodale Institute has experimented with no-till organic farming using cover crops and tractor-mounted rollers to kill the cover just before planting into it."
Note: Links to external resources must also have a full citation in the section "Additional Resources".
How to Create a Phrase Link to an External Resource:
Copy the URL of the webpage that you want to link to using CTRL+C
Navigate to the page where you want to create the link
Click the Edit tab at the top of the page
In the Body field, select the text you want to turn into the link
Click the Insert/Edit Link button - a window will open
In the URL field, paste your URL using CTRL+V
Click OK
Save the page
Document Link - Upload a Document to Share
If you want to upload a Word document to share, save it as a pdf first and then upload the pdf. If you want to upload an Excel spreadsheet that you just want people to read, save that as a pdf and then upload it. If it is an Excel spreadsheet that you want people to enter data into because it does calculations, then upload it as an Excel file.
Navigate to the page where you want to create the link
Click the Edit tab at the top of the page
Select the text you want to turn into the link in the Body section, or just position the cursor where you want the name of the file to appear.
Click the Insert/Edit Link button; a window will open
Click on Browse Server in this link window
Select a File name from the list or Upload one from your computer by clicking the Upload tab at the top and then Browsing for it. You may have to click "open". Click "Upload" and "Insert File".
Make sure the Protocol is http://

In the box for the URL next to the Protocol, type www.eorganic.info right before where it says /sites
Click OK. This popup window will close.

Save the page at the bottom.
References and Citations/Additional Resources
eOrganic strongly encourages including references and citations in all articles. Please include a full citation for all cited studies, references to research findings, relevant regulations, etc. as well as a link to an online full text version or abstract, preferably the doi.
Authors are responsible for formatting references and citations correctly. eOrganic has adopted the conventions outlined in the ASA–CSSA–SSSA publications handbook and style manual (2004), with the exception that (1) full journal titles, rather than abbreviations, will be used, and (2) URLs for Internet versions of print resources will be included, if available (HTML in preference to other formats).
Format the headings for References and Citations, and Additional Resources using heading 2.
Use bulleted lists for formatting both References and Citations, and Additional Resources.
References and Citations - this is reserved for documents that you cite in your article text or have used to help write your article
Additional Resources - any additional resources that you want to list can go here, this is also where you create the full citation for any outside links you have created in your text.
Citation format Examples: for additional examples, please see http://eorganic.info/node/3348
Note that titles of electronic-only resources are followed by [Online] and they are listed as being "available at" a specific address. Print resources which are also available online are referred to as being "available online at:" as specific addresss.
Verify all links and update the verified date if you have pasted this information from another source.
• Brainard, D. C., R. R. Bellinder, R. R. Hahn, and D. A. Shah. 2008. Crop rotation, cover crop, and weed management effects on weed seedbanks and yields in snap bean, sweet corn and cabbage. Weed Science 56: 434–441. (Available online at: http://www.bioone.org/doi/abs/10.1614/WS-07-107.1) (verified 17 March 2010).
• Sullivan, P. 2003. Principles of sustainable weed management for croplands [Online]. ATTRA Publication #PO39. National Sustainable Agriculture Information Service. Available at: http://www.attra.org/attra-pub/weed.html (verified 21 Nov 2008)
Metadata
To fill out metadata, which is required for publication, click the metadata tab at the top of the page and fill out the form as follows. For further information, see http://eorganic.info/node/3373
Coverage area: Click US, or if the article is a regional piece, check all areas from the list that apply.
Language: English
Technical format: Check text/html, and images or other formats depending what your page contains.
Age Range: Check All Audiences
Information Source: Check one or both
Permissions: Check All Rights Reserved. Include permission text from those holding copyrighted work (e.g., photos and images) used in the article, or "none" if appropriate. See the Images section above for detailed information on how to get permission for photos, the photo release form, and either upload the form to the article page or paste the text into the Permissions section on the metadata.
Contributor: Enter all contributors separately, including authors, co-authors and photographers. Author names will automatically appear below the title, so there is no need to enter author information in the Body section.
Contributor extension ID: Must be looked up at http://people.extension.org. Reminder: All authors must obtain an ID from eXtension at https://people.extension.org/signup.
Enter organization and date of contributions. If unsure, leave blank.
If the article is taken verbatim from another source, enter the author and put the contributor role as "source", along with a full citation in the Contributor Organization field.
Click SUBMIT
Essential Resources for Copy Editing eOrganic Content
Resources to use for guidance, in order of preference:
For more on copy editing, see Copy Editing eOrganic Content.
Submitting Articles for Review
When you have finished an article, go to Edit, select Review Process, and click Ready for Review. Then notify your group coordinator or a member of the eOrganic staff (see Contact Information below). The group coordinator will pre-review the article to check that it meets our general requirements and scope (see above) and fits well with, and does not duplicate, our existing content. Formatting as indicated in these instructions should also be completed by the author, and the article needs to be well written with clear and concise prose, as well as correct spelling and grammar. Revisions can be requested at this time if the article is not deemed ready for review.
You will be notified when your article is in review, during which time it will not be possible to make changes to it. After 2 anonymous reviews are completed, the status of the article will be switched to Author Revisions, at which point you will receive the reviewer comments, and you can make additional changes. Following Author Revisions, the article will be checked for compliance with NOP regulations. During Certification Check, small portions of the article may be rewritten to bring it into compliance. If substantial changes are made the authors will be contacted for review. After Certification Check, the article will undergo copy editing and then be published. More information on our review process can be found here.
Video
eOrganic maintains a YouTube channel at https://youtube.com/eorganic. We also have a Video group where you can find more information about working with video, and a free online class in video production at http://eorganic.info/video.  For the video to be linked on the eXtension website with other eOrganic publications, it will need to be reviewed by 2 anonymous reviewers and checked for organic certification compliance. It is easiest to review a storyboard before the video production has taken place. Videos should also meet the following minimum technical standards before being accepted.
Speakers voices are clear and audible
Good audio quality
Image not shaky or over- or underexposured
Audio should match what is being shown in the video
People properly identified in video
Include Identifying slides (title slide, credits, sponsors)
It's best if the title isn't too long and simply describes what is in the video
Create an article page for the video (see instructions for how to create an article above) which will house the storyboard (first) and then the transcript and this page will eventually contain the embedded video.
Please include a transcript or caption file for hearing-impaired viewers, and also to improve the discoverability of the video. Please also sign up for an eXtension ID at https://people.extension.org/signup if you want the video to be published on eXtension in addition to the eOrganic YouTube channel.
If you have not started filming your video and you need help planning, producing, or editing your movie for publication on eOrganic, please contact Lane Selman at laneselman@gmail.com, or if it is an eOrganic dairy video, contact Deb Heleba at debra.heleba@uvm.edu. They will help you plan the video and will have the storyboard reviewed to reduce the amount of editing after production.
Contact Information
For help, please contact your group coordinator, or Alice Formiga formigaa@hort.oregonstate.edu, or Debra Heleba debra.heleba@uvm.edu