Hawaii-NOVIC Organic Plant Breeding Intensive
Date:
Sun, 03/11/2018 - 08:00
-
Mon, 03/12/2018 - 16:00
This March Hawaiian farmers, students and seed stewards can take their skills to the next level learning fundamentals of plant variety improvement and organic plant breeding. Join the Northern Organic Vegetable Improvement Collaborative team, along with University of Hawaii (UH), for a two-day intensive on organic seed and plant breeding. Trainings include classroom and hands-on exercises in the fields of GoFarm Hawaii, the Sustainable and Organic Agriculture Program, and UH Extension viewing a wide range of vegetable crops along with tropical staple-crops (taro, cassava, and banana). This workshop is for farmers, seed producers, and agricultural students with basic knowledge of crop and seed biology and includes group exercises, networking opportunities, and local foods lunches. Registration is limited.
Funding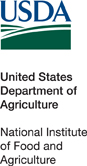 This project was funded by the Organic Research and Extension Initiative grant, part of the USDA National Institute of Food and Agriculture. Awards 2009-51300-05585 for NOVIC I (2009-2013), 2014-51300-22223 for NOVIC 2 (2014-2018) and 2018-51300-28430 for NOVIC 3 (2018-2022).