Culinary Breeding Network's Variety Showcase Oahu
Date:
Tue, 03/13/2018 -

17:30

-

19:30
The NOVIC team and the Culinary Breeding Network invite you to play a vital role in improving the quality of what farmers grow and how it tastes. Join us in Oahu, Hawaii, on March 13th for a special Variety Showcase. This is an interactive mixer to build community and increase collaboration between plant breeders, farmers and eaters. The event provides attendees the unique experience to taste new and in-development vegetable and grain cultivars, share opinions and break down the walls between eaters and breeders.
Funding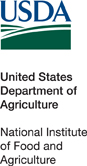 This project was funded by the Organic Research and Extension Initiative grant, part of the USDA National Institute of Food and Agriculture. Awards 2009-51300-05585 for NOVIC I (2009-2013), 2014-51300-22223 for NOVIC 2 (2014-2018) and 2018-51300-28430 for NOVIC 3 (2018-2022).