Plant Breeding on the Farm: How to develop vegetable and specialty crops for adaptation to organic conditions in the Southeast
Date:
Mon, 09/10/2018 - 08:00
-
Tue, 09/11/2018 - 15:00
This autumn Southeastern farmers, agricultural students, and seed stewards can take their skills to the next level learning the fundamentals of organic on-farm plant breeding. Join the NOVIC team, along with experienced seed growers from Common Wealth Seed Growers (CWSG) and Southern Exposure Seed Exchange (SESE), for a two-day intensive on field-based methods for organic plant breeding.
Trainings include classroom and hands-on exercises in the field including a tour of extensive cucurbit variety trials for disease resistance led by Edmund Frost, and organic trials and seed production of a wide array of vegetable, herb, and flower species tested under Virginia summer growing conditions. The workshop will cover basic methods for breeding in cross and self pollinating species and discussion of crop specific breeding goals for organic systems.
Funding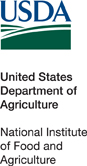 This project was funded by the Organic Research and Extension Initiative grant, part of the USDA National Institute of Food and Agriculture. Awards 2009-51300-05585 for NOVIC I (2009-2013), 2014-51300-22223 for NOVIC 2 (2014-2018) and 2018-51300-28430 for NOVIC 3 (2018-2022).