Snap Peas
Why is NOVIC breeding snap peas?
Most consumers demand high quality stringless pea varieties. However, stringless varieties are generally less vigorous than stringed varieties, especially in the heat of the summer. Organic farmers need high quality peas that can be grown throughout the year. Because organic farmers do not use synthetic chemicals to control pea diseases, peas developed for organic agriculture must also have good genetic resistant to common pea diseases.

What is the breeding plan?
The first step of the breeding plan is to identify the best potential parental material for developing organic pea varieties. Germplasm from Oregon State University, Cornell, the USDA germplasm system, and commercial and heirloom varieties are being tested on organic farms to find those with:
The best flavor

Earliness

Ideal growth habit

Good disease resistance
The best parents from these trials will then be crossed into high quality stringless peas for a number of years in order to recover the quality traits and stringlessness. Finally, the resulting new lines will again be tested on organic farms to identify the best potential varieties.
What varieties are included in the trials?
Listed below are snap pea varieties tested in years 2010 and 2011 of the project. In some cases, varieties were used in consecutive trial years. Visit the Organic Variety Trial Database to view trial results on the varieties below.
2010 Varieties
Sugar Snap
Super Sugar Snap
Sugar Ann
Cascadia
Sugar Spring
Sugar Daddy (Breeder population #1)
Breeder population (x4)
2011 Varieties
Cascadia
Sugaree
Breeder population (x4)
Sugar Snap
Sweet Horizon
Sugar Prince
Sugar Sprint
Funding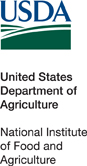 This project was funded in 2014 by the Organic Research and Extension Initiative grant, part of the USDA National Institute of Food and Agriculture. Award # 2014-51300-22223.