Breeding for Nutrition Webinar
Date:
Fri, 03/23/2012 - 11:00
OSA and eOrganic are proud to offer the upcoming Breeding for Nutrition webinar free and open to the public on March 23, 2012 at 11a PST. This workshop was originally presented at the 6th Organic Seed Grower's Conference on January 20, 2012 in Port Townsend, Washington, and the speakers are repeating it as an eOrganic webinar. Speakers include Jim Myers of Oregon State University, Phil Simon of University of Wisconsin-Madison, and Walter Goldstein of the Mandaamin Institute.
Advance registration is required - please register here.
Funding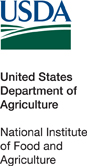 This project was funded by the Organic Research and Extension Initiative grant, part of the USDA National Institute of Food and Agriculture. Award # 2016-51300-25721: CIOA 2- Carrot Improvement for Organic Agriculture With Added Grower and Consumer Value