Breeding

Popular cucurbit cultivars, with consumer-desired characteristics, often lack genetic resistance to pests. We're working to develop cucumber, melon and squash open pollinated cultivars that are regionally adapted, tolerant to pests, flavorful and prolific.
A key to making this process work is grower input. We determine what seeds need improvement by using a blend of surveys at grower meetings and conferences, needs assessments by the Organic Seed Alliance, and the direct feedback we get through on-farm evaluations of developing varieties. Much of the time, we find that some of the most favored seed varieties are not suited for the constantly changing climate and pest pressure that goes along with it. Our job is to strengthen these classic favorites for 21st century organic growing.
Click here for the new varieties released by the ESOCuc project!
Webinars and Conference Presentations on Cucurbit Breeding
Research Updates: Vegetable Crops: Cucurbits, by Michael Mazourek, presented at the 2014 Organic Seed Grower's Conference
Cuckoo for Cucurbit Vine Crop Breeding: How to Breed New Plant Varieties: Imagining and Engineering Crops, by Michael Mazourek, Cornell University. Plant Breeding and Genomics Webinar, May 13, 2014
Our Sponsors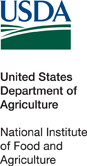 Grant number: 2012-51300-20006