About the Organic Management of Spotted Wing Drosophila Project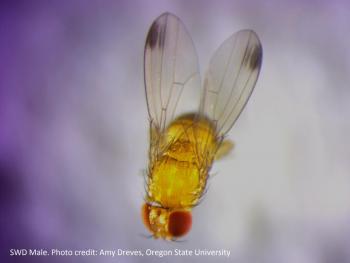 This website was started as a result of a USDA Organic Research and Extension Initiative to allow researchers and organic growers from across the U.S. to identify knowledge gaps and research needs in order to reduce damage caused by the invasive spotted wing drosophila.
Background
Spotted wing drosophila (SWD) Drosophila suzukii is a devastating invasive pest of small and stone fruits including blueberries, caneberries, strawberries, cherries, peaches, nectarines and grapes in the U.S. Since its first detection in California in 2008, SWD has spread throughout the United States causing significant losses (as high as 100%) in crop yield and quality, which have been estimated at $850-900 million annually.
Management of SWD is largely achieved by insecticide applications and is particularly challenging for organic growers due to lack of OMRI approved effective materials. We have assembled a multidisciplinary team of organic researchers, horticulturists, entomologists, farmers and extension educators that will coordinate the development and delivery of management practices for SWD in organic fruit production systems.
Objectives for the Organic Management of Spotted Wing Drosophila Project
1. Optimize organic plant protectants and biological controls, focusing on the best possible use of current options for SWD management and limiting non-target effects on natural enemies. 2. Determine factors affecting behavior and movement of SWD and developing tools to intercept SWD at key periods.
3. Evaluate cultural management practices including exclusion and plant canopy and floor management to reduce infestation and population buildup.
4. Develop and deliver extension materials to organic growers including cost-benefit analyses of management techniques.
Contact information:
Ashfaq Sial Ahmad, Ph.D.
Assistant Professor/IPM Coordinator
Department of Entomology, University of Georgia
463D Biological Sciences Building, Athens, GA 30602
706-542-1320(office) 706-713-2256(lab)
Funding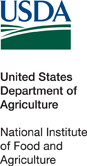 Grant number:
USDA-NIFA-2015-51300-24154