Working Around the Calendar to Breed Organic Carrots
This past week CIOA's Dr. Phil Simon led a research team to select carrot roots for seed production and breeding at his winter nursery in El Centro, CA (just north of the Mexico border). They selected roots from approximately 1,000 different populations, representing a kaleidoscope of colors and shapes for this season's breeding efforts.
Read about the harvest and view some of the selected roots here.
Funding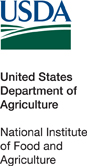 This project was funded by the Organic Research and Extension Initiative grant, part of the USDA National Institute of Food and Agriculture. Award # 2016-51300-25721: CIOA 2- Carrot Improvement for Organic Agriculture With Added Grower and Consumer Value