This Weekend's Menu: Roasted Carrot Bolognese
Spring is in full swing and depending on where you live, carrots are back in our market booths. Needless to say, we've got carrots on the mind and on the menu so we're sharing this delicious recipe developed by Chef Karl Holl from Let Um Eat for last autumn's Variety Showcase in Portland, Oregon.
Enjoy and be sure to mark your calendar for October 2, 2017, to join CIOA at this year's Variety Showcase, an annual interactive mixer hosted by the Culinary Breeding Network to build community and increase collaboration between breeders, farmers, and eaters.
Funding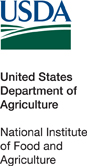 This project was funded by the Organic Research and Extension Initiative grant, part of the USDA National Institute of Food and Agriculture. Award # 2011-51300-30903; Award # 2016-51300-25721: CIOA 2- Carrot Improvement for Organic Agriculture With Added Grower and Consumer Valuel Award # 2021-51300-34900: Carrot Improvement for Organic Agriculture: Leveraging On-Farm and Below Ground Networks.