2020 Organic Agriculture Research Forum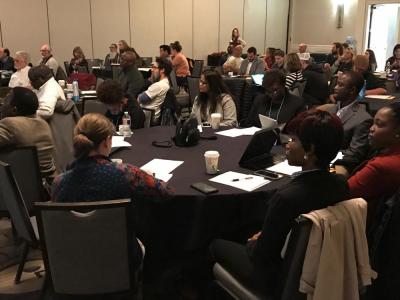 The Organic Agriculture Research Forum, organized by Tuskegee University and the Organic Farming Research Foundation research forum featured oral presentations, facilitated round table discussions, and a robust joint poster session with SSAWG. It took place in Little Rock, Arkansas on January 23, 2020. The presentations were recorded.
Introduction
Strengthening Organic Agriculture through Healthy Soils and Plant Breeding.
Alex Woodley, Assistant Professor, North Carolina State University. Soil health principles for resiliency in organic agriculture.
Jim Myers, Professor, Oregon State University. Lessons learned in farmer participatory plant breeding with the Northern Organic Vegetable Improvement Collaborative.
Desmond Mortley, Professor, Tuskegee University. Participatory vegetable crop variety trials in the Southeast: Biomass yields.
Edmund Frost, Farmer, Common Wealth Seed Growers. Organic cucumber research and breeding for the Southeast.
Organic Management of Pests and Diseases
Impacts of Organic Agriculture on Food Safety and Human Nutrition
Adelia Bovell-Benjamin, Professor, Tuskegee University. Nutritional quality of selected organic vegetables: A review.
Kristin Woods, Statewide Extension Agent, Auburn University. Implementing conservation practices while improving produce safety and quality.
Alberta N. A. Aryee, Assistant Professor, Delaware State University Compositional differences in organic and conventional alternatives: Nutrients and bioactive compounds.
Julian Jones, Graduate Student, Tuskegee University. Attributes of organically grown squash (Cucurbita pepo L.) and tomato (Lycopersicon esculentum).
Safiullah Pathan, Assistant Professor, Lincoln University of Missouri Leafy green quinoa: A potential nutrient-rich new vegetable for organic farming.
Consumer Preferences, Markets, and Knowledge Transfer in Organic Systems
Keniya Davis, Graduate Student, Tuskegee University. Consumers hedonic liking of organic squash (Cucurbita pepo L.).
Nicole Nunoo, Graduate Student, Virginia Tech. Market development for organic squash, tomatoes, and southern peas in the Southeastern United States.
Katie Kule, Graduate Student, Clemson University. Consumer perspectives on fruit bagging: A small grower horticultural practice for southern organic tree orchards.
Tim Miller, Farmer, Millberg Farm. Innovative approaches to transferring knowledge to beginning and transitioning farmers and ranchers.
Poster Session and Mixer
Fiacre Adifon, University of Abomey-Calavi. Physico-chemical parameters of determinant at the level of the Laboko and Kokoro varieties of Dioscorea rotundata in Benin
Hospice Akpo, University of Ibadan. Image data acquisition for estimating individual trees metrics: Closer is better
Joan Burke, USDA. Organic compared with conventional systems for lamb production yield differences in performance in Southeastern U.S. pastures
Christelle Codjia, University of Nigeria.Ecological niche modeling of the stone partridge (Ptilopachus petrosus Gmelin, 1789) in Benin republic center
Keniya Davis and Julian Jones, Tuskegee University. Organic pesticides influence the nutritional and physical properties of organically grown sweet potato (Ipomoea batatas [L.] Lam)
Chehidi Hatem, CTAB. Public policies to facilitate the transition to organic farming (Tunisian experience)
Sonu Koirala BK, Tuskegee University
Tomato hornworm (Manduca quinquemaculata) management in organic tomato production in Alabama: Performance of selected biopesticides and host preference of the insect pest
Carlos Alonso Maldonado Rocha, Universidad Autónoma de Sinaloa (UAS). Obstacles in transitioning to a certified organic production system in farmers from the central- northern region of Sinaloa Mexico
Caitlin Skinner, Tuskegee University. Effects of thermal pretreatment on anaerobic methane production from a belowground cocktail of cover crops
Andreka Wills, Tuskegee University. Storage root yield and elemental leaf concentration of three sweet potato varieties in response to organic fertilizer
The conference and scholarships are supported by Ceres Trust and the Organic Agriculture Research and Extension Initiative (OREI) grant no. 2019-51300-30250 from the USDA National Institute of Food and Agriculture.
The Organic Farming Research Foundation (OFRF) is a non-profit foundation that works to foster the improvement and widespread adoption of organic farming systems. OFRF cultivates organic research, education, and federal policies that bring more farmers and acreage into organic production.
Southern SAWG facilitates the development of a more sustainable food and agriculture systems across 13 states in the Southern U.S. Since 1992 they have provided high quality educational materials and training opportunities on sustainable and organic production, marketing strategies, farm management, and community food systems development. Each year the Southern SAWG Conference brings together over 1,000 farmers, researchers, educators, and others in the sustainable agriculture field to share practical tools and information and strengthen their working relationships. The 2020 Southern SAWG conference will take place in Little Rock, Arkansas on January 22-25, 2020.
Tuskegee University has initiated an organic farming program for over 10 years to educate Alabama residents on the health benefits of organic vegetables. The program has grown in recent years to include site specific organic farming research on various vegetable crop varieties and integrated pest management throughout the Southern United States to provide recommendations to organic growers. Dr. Kpomblekou-A has served as director of the program at Tuskegee University since 2016.
Funding
This project was organized by the Organic Farming Research Foundation and funded by the Organic Research and Extension Initiative grant, part of the USDA National Institute of Food and Agriculture in 2015 and 2016.
In 2015, additional funding was provided by the Ceres Trust and the conference was co-sponsored by the University of Wisconsin and the Organic Center. In 2016, the conference was sponsored by the University of California's Kearney Agriculture Research and Extension Center, the Organic Farming Research Foundation, and the Gaia Fund. The 2017 conference was in partnership with the University of Kentucky and Kentucky State University. The 2019 conference was in partnership with Organicology and the Ceres Trust. The 2020 Conference was funded by NIFA OREI and was conducted in partnership with Tuskegee University and the Southern Sustainable Agriculture Working Group and Ceres Trust.