40th International Carrot Conference
Date:
Mon, 08/29/2022 (All day)
-
Tue, 08/30/2022 (All day)
We hope to see you in person at the 40th International Carrot Conference this August 29–30, in Mount Vernon, Washington. The event is held every 18 to 24 months and brings together anyone interested in carrots, including growers, packers, shippers, seed producers, breeders, pathologists, sellers, marketers, university and government researchers, extension specialists, and students. We'll be participating and sharing about the Carrot Improvement for Organic Agriculture project.
Monday's agenda will include a full day of sessions focused on disease management, genetics/breeding, and production/marketing. Tuesday will be a full day of field tours, and there's an optional field tour on Wednesday to Central Washington, the primary carrot root and seed crop production area in the state.
---
Call for Abstracts of Papers
Carrot researchers are invited to submit abstracts for both oral and poster presentations at the conference. Oral presentations will be 15 to 20 minutes long. Please submit one abstract for each presentation you'd like to present. All abstracts must be received by Thursday, July 21, 2022.
Funding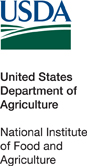 This project was funded by the Organic Research and Extension Initiative grant, part of the USDA National Institute of Food and Agriculture. Award # 2011-51300-30903; Award # 2016-51300-25721: CIOA 2- Carrot Improvement for Organic Agriculture With Added Grower and Consumer Valuel Award # 2021-51300-34900: Carrot Improvement for Organic Agriculture: Leveraging On-Farm and Below Ground Networks.