Research Updates
January 2018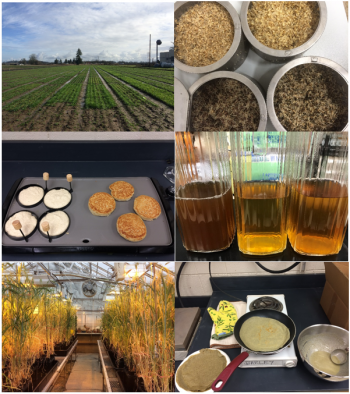 Germplasm: Regional trials: The fall trial is growing well with minimal weed pressure in Corvallis.We'll be collecting entries and sending out the spring regional trial in the next few weeks.
Diversity panel: Planning a spring trial of ~260 entries + checks. The earliest entries are beginning to dry down in the greenhouse; the latest entries have not headed.
Increase blocks: Working out details on seed orders. All states should make sure they have a lead teacher identified and start thinking about spring planting at schools. More info in a bulletin from Pat coming soon!
Outreach: Brigid, Pat, Lane, and Andrew presented at the Cascadia Grains Conference along with bakers Dillon Debauche and Mel Darbyshire. We talked about the project and tasted 3 barley breads and 1 wheat bread. The audience greatly preferred the barley breads, although there wasn't a consensus on favorite variety. Brigid is currently organizing information from the ballots. At OSU we've been preparing easy barley recipes (waffles, crepes, crumpets, barley tea) in the lab and taste testing them amongst ourselves and sharing recipes on social media. Additionally, Andrew Ross has been making more complicated breads and biscuits down in his bakery and we've also been tasting those. Naked barley is so versatile and delicious! We've written another bulletin on beer made with naked malts, look for that one soon.
For the future: · OREI Meeting/Barley Day: May 31/June 1 at Corvallis.
December 2017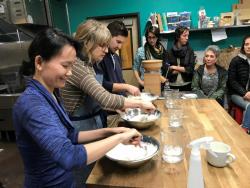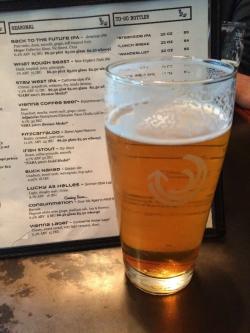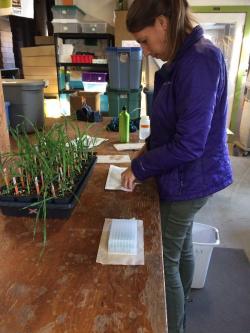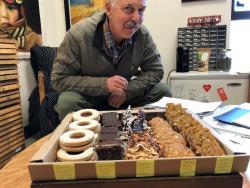 Clockwise from top left: Noodle school with JoMarie Pitino, Buck Naked Beer at Breakside Brewing, Pat enjoying an assortment of barley cookies, Brigid taking tissue from the diversity panel.
Germplasm:
Fall regional trial: Stand counts taken at most locations. Although it's a balmy 45° in Corvallis, we should see some winter survival differential at the colder locations (if the trial survives at all). We will be putting together entries for the spring regional trial in the coming month.
Diversity panel: Tissue was collected from 400 potential entries and sent in for genotyping on the 50K SNP Chip at Fargo, ND. Spring/facultative types will be sent to collaborators as soon as they are harvested for field planting.
Education:
We are meeting with the lead teacher this week to discuss lesson plans for spring.
If you have not already identified a lead teacher for your state, please do so in the next month!
Outreach:
Buck Naked Beer! A Portland brewery made a great beer using Buck as the main malt; we went up and tasted it and discussed challenges/opportunities associated with naked malt. As described by Pat, it tasted like: "Malt-forward butter biscuits with honey."
Pat participated in a 'Noodle School' event with a local pastamaker, using different barley varieties to make pasta.
Coming up: Brigid, Pat, Lane, and Andrew will be at the Cascadia Grains Conference talking about and tasting naked barley products with local bakers.
For the future:
OREI Meeting/Barley Day: May 31/June 1 at Corvallis. We'll get a rough timeline together soon.
Pictures! We need pictures from sites other than Corvallis! Please email/dropbox/text your pictures to Brigid so we can post them to social media/websites.
Spring planting: regional trial, diversity panel, increase blocks. Start thinking about seed needs/land needs soon!

October 2017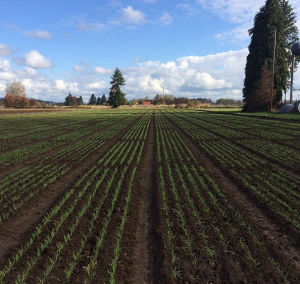 Germplasm: · Fall regional trial planted all locations. Fall increase blocks planted at Corvallis (Buck), Mount Vernon (Buck), and Ithaca (Buck and #STRKR).
Diversity panel: Entries planted in greenhouse for seed increase and genotyping – we were cruelly assaulted by rodents. We have re-planted.
Education: · A day of outreach on the selection unit with Briggs Middle School (Springfield, Oregon). The kids loved it! Partnering teachers are working on a formal lesson plan
Outreach: The Plant Variety Showcase was a dream! Lane Selman's energy condensed into a single evening… We had 5 delicious barley dishes prepared by some incredible chefs and bakers. Pictures at https://shawnlinehan.photoshelter.com/gallery/2017-CBN-Variety-Showcase/...
To think about: Variety (varieties) for the spring increase blocks: CDC Clear, Meg's Song, Havener, Julie, Transit, or Goldenheart. CDC Clear is the only modest beta glucan type. Full data coming on these choices – if you have experience with any or all of these, please share with Brigid Meints!
Social Media: If you haven't checked out our Instagram and Facebook pages and encourage others to follow.
Funding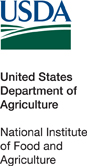 This project was funded in 2017 by the Organic Research and Extension Initiative grant, part of the USDA National Institute of Food and Agriculture. Grant number 2017-51300-26809