NOVIC Field Day at Oregon State University
Date:
Fri, 09/13/2019 -

10:00

-

16:00
Come out to this annual field day to see what our NOVIC Oregon team is up to this season. We'll gather at OSU's Lewis-Brown Farm located at 33329 Peoria Rd SW in Corvallis, OR, on September 13, 2019, from 10:00 a.m. to 4:00 p.m.
Funding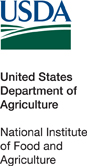 This project was funded by the Organic Research and Extension Initiative grant, part of the USDA National Institute of Food and Agriculture. Awards 2009-51300-05585 for NOVIC I (2009-2013), 2014-51300-22223 for NOVIC 2 (2014-2018) and 2018-51300-28430 for NOVIC 3 (2018-2022).