Resources for Organic Plant Breeding
Publications
Organic Seed Alliance publications
Organic Crop Breeding book by E.T. Lammerts van Bueren and J.R. Myers
Breeding Organic Vegetables A Step-by-Step Guide For Growers by Rowen White and Bryan Connolly (published by NOFA-NY)
Organic Seed Production and Saving by Bryan Connolly (published by NOFA)
Sustainable Organic Plant Breeding. Trial Report: a vision, choices, consequences and steps. by E.T. Lammerts van Bueren, et al
Organic Plant Breeding and Propagation: Concepts and Strategies. by E.T. Lammerts van Bueren
Videos
How to Breed for Organic Production Systems Webinar by Dr. Jim Myers
Introduction to On-Farm Organic Plant Breeding Workshop
Captured live at the 2012 Organic Seed Growers Conference, John Navazio, Organic Seed Alliance and Washington State University, discusses the basics of on-farm plant breeding and presents two case studies.
What's so Special about Organic Seed?
While in Port Townsend, Washington, the OrganicNation.tv crew stopped at the Organic Seed Alliance to talk with seed geneticist John Navazio.
Organic Carrot Breeding by Dr. John Navazio: Part 1; Part 2; Part 3
Presentations
Presentation by Michael Mazourek, Rachel Hultengren, and Lauren Brzozowski on February 5, 2016, at the 8th Organic Seed Growers Conference in Corvallis, Oregon.
Online
Organic Seed Alliance: website; facebook; twitter
Funding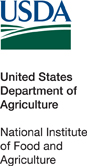 This project was funded by the Organic Research and Extension Initiative grant, part of the USDA National Institute of Food and Agriculture. Awards 2009-51300-05585 for NOVIC I (2009-2013), 2014-51300-22223 for NOVIC 2 (2014-2018) and 2018-51300-28430 for NOVIC 3 (2018-2022).