Organic Vegetable Research Showcase
Date:
Thu, 08/22/2019 -

14:00

-

17:00
Our research partners at University of Wisconsin–Madison are busy in the field and you're invited to check it out firsthand. Join the NOVIC project partners at the University of Wisconsin–Madison, seed company representatives, and independent breeders for the Organic Vegetable Research Showcase on August 22nd. We'll tour NOVIC trial and breeding plots and learn about other research being done at the station, including from the Seed to Kitchen Collaborative, the Carrot Improvement for Organic Agriculture (CIOA) project, the Tomato Organic Management Improvement Project (TOMI), and Organic Seed Alliance.
The field day will showcase beets, carrots, tomatoes, peppers, potatoes, melons, cucumbers, sweet corn, and winter squash. The event is free and open to the public. Learn more here.
Questions? Contact Julie Dawson at dawson@hort.wisc.edu.
Funding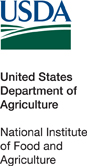 This project was funded by the Organic Research and Extension Initiative grant, part of the USDA National Institute of Food and Agriculture. Awards 2009-51300-05585 for NOVIC I (2009-2013), 2014-51300-22223 for NOVIC 2 (2014-2018) and 2018-51300-28430 for NOVIC 3 (2018-2022).