Photos and Videos
Photo Galleries
Videos
Recorded Presentations from the Organic Agriculture Research Forum at the SSAWG Conference on January 23, 2020
The Organic Agriculture Research Forum, organized by Tuskegee University and the Organic Farming Research Foundation research forum featured oral presentations, facilitated round table discussions, and a robust joint poster session with SSAWG. Many of the presentations and posters are by researchers and collaborating students in the Southeast Partnership!
Integrated Pest Management Tips by Dr. Franklin Quarcoo, Tuskegee University
Tomato Hornworm
Dont Kill Every Single Pest!
Videos on Organic Certification
Alabama Grower Spotlights
Sheila Dicks, Joy Haven Farm in Shorter, Alabama
Yawah Awolowo, Mahalah Farms in Cuba, Alabama
Funding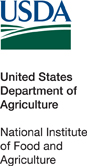 This project is funded by the Organic Research and Extension Initiative grant, part of the USDA National Institute of Food and Agriculture. Grant number 2016-51300-25725