Resources on Organic Farming in the Southeast
COVID-19 Resources for Southeastern Farmers
USDA Coronavirus Food Assistance Program and American Rescue Plan Debt Relief
Coronavirus Food Assistance for Producers
USDA is implementing updates to the Coronavirus Food Assistance Program (CFAP) for producers of agricultural commodities marketed in 2020 who faced market disruptions due to COVID-19. This is part of a larger effort to reach a greater share of farming operations and improve USDA pandemic assistance. If you owned or produced any of the following in 2020, you may be eligible for financial assistance through CFAP 2.
Livestock (cattle, pigs, sheep/wool, broilers/pullets, eggs and more)
Row or specialty crops (including aquaculture, nursery, and more)
The CFAP 2 signup period reopened as part of USDA's new Pandemic Assistance for Producers initiative. Note: Participation in CFAP 1 is NOT required for assistance through CFAP 2. To learn more, visit https://www.farmers.gov/pandemic-assistance/cfap, contact 877-508-8364, or contact your local FSA office.
American Rescue Plan Debt Relief
The USDA also recently announced provisions under the American Rescue Plan for USDA to pay up to 120% of loan balances, as of January 1, 2021, for Farm Service Agency (FSA) Direct and Guaranteed Farm Loans and Farm Storage Facility Loans debt relief to any socially disadvantaged producer who has a qualifying loan with FSA. This includes producers who are one or more of the following: Black/African American, American Indian, Alaskan Native, Hispanic/Latino, Asian American, or Pacific Islander. Since this debt payment will qualify as income, Congress determined the 20% additional payment is intended to help mitigate liabilities that occur when clearing a debt, which may include tax liabilities, among others. Find out more on their new website at https://www.farmers.gov/americanrescueplan. A Call Center is available at 877-508-8364. and view the Frequently Asked Questions at https://www.farmers.gov/americanrescueplan/arp-faq. If you think you are eligible and do not know what your race or ethnicity on file at the FSA is, contact your local service center to find out. If an update or correction is needed, you may either fill out USDA Form AD-2047 or work with your local service center to update your record, including race and ethnicity.
A summary of the many additional recent USDA actions and funding opportunities in response to the pandemic can be found on a blog post published today by the National Sustainable Agricultural Coalition here.
University and Extension Publications on Organic Farming in the Southeast
Tuskegee University and the Southeast Organic Partnership
Alabama Cooperative Extension Service
University of Florida Extension Small Farms Program: Organic Production
Georgia: University of Georgia Extension organic publications:
Mississippi State University Vegetable Crop Physiology and Production Systems
North Carolina:
South Carolina: Clemson sustainable agriculture program and student organic farm
Tennessee: University of Tennessee Organic and Sustainable Crop Production
Plant Disease Clinics in the South
Information on Disease-resistant Varieties
Hubbard, K. 2019. Organic Plant Breeding Yields Superior Varieties for Cucurbit Growers. Available at https://www.carolinafarmstewards.org/organic-plant-breeding-yields-superior-varieties-for-cucurbit-growers/
Organic and Sustainable Agriculture Organizations in the Southeast
OMRI Website
The OMRI Products List©: The OMRI Products List© is the most complete directory of products for organic production or processing under the U.S. National Organic Program standards, and includes over 6,000 "OMRI Listed®" products.
​
Before using any pest control product in your organic farming system:
Read the label to be sure that the product is labeled for the crop and pest you intend to control, and make sure it is legal to use in the state, county, or other location where it will be applied,
Read and understand the safety precautions and application restrictions, and
Make sure that the brand name product is listed in your Organic System Plan and approved by your USDA-approved certifier. If you are trying to deal with an unanticipated pest problem, get approval from your certifier before using a product that is not listed in your plan—doing otherwise may put your certification at risk.
Note that, although OMRI and WSDA lists are good places to identify potentially useful products, all products that you use must be approved by your certifier. For more information on how to determine whether a pest control product can be used on your farm, see the related article, Can I Use This Input On My Organic Farm?
Funding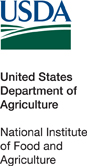 This project is funded by the Organic Research and Extension Initiative grant, part of the USDA National Institute of Food and Agriculture. Grant number 2016-51300-25725