NOVIC featured in Organic Farmer
The NOVIC project is featured in the December/January 2019 edition of the Organic Farmer magazine. Read about our work and how NOVIC serves the greater organic agricultural community.
"Only a handful of companies focus on breeding crops for organic farming systems. Increasingly the public sector is advancing this area of breeding – and with much success. One example is the Northern Organic Vegetable Improvement Collaborative (NOVIC)."
Read the full article here(begins on page 20).
Funding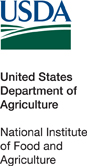 This project was funded by the Organic Research and Extension Initiative grant, part of the USDA National Institute of Food and Agriculture. Awards 2009-51300-05585 for NOVIC I (2009-2013), 2014-51300-22223 for NOVIC 2 (2014-2018) and 2018-51300-28430 for NOVIC 3 (2018-2022).