Expanding Organic Seed Availability: Farmer Breeder Collaboration
Date:
Wed, 08/21/2019 -

15:00

-

17:30
Join NOVIC collaborator Michael Mazourek and Zaid Kurdieh for a field day on August 21, 2019. The team is exploring how farmers and seed breeders can develop and revive more resilient seed varities. Participants will learn about restoring lost seed options, high tunnel seed varieties, and other projects at Norwich Meadows Farm. The event will be held at Norwich Meadows Farm located at 105 Old Stone Rd, Norwich, NY.
Funding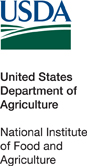 This project was funded by the Organic Research and Extension Initiative grant, part of the USDA National Institute of Food and Agriculture. Awards 2009-51300-05585 for NOVIC I (2009-2013), 2014-51300-22223 for NOVIC 2 (2014-2018) and 2018-51300-28430 for NOVIC 3 (2018-2022).