Most growers want the same thing out of their gardens: Quality. This CSU doctoral student helps them get it.
Tyler Mason is part of our NOVIC team at Colorado State University. Check out what they're working on this season in this Denver Post article.
Funding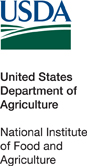 This project was funded by the Organic Research and Extension Initiative grant, part of the USDA National Institute of Food and Agriculture. Awards 2009-51300-05585 for NOVIC I (2009-2013), 2014-51300-22223 for NOVIC 2 (2014-2018) and 2018-51300-28430 for NOVIC 3 (2018-2022).