2018 Research Summary from Tuskegee University
2018 Research Summary from Tuskegee University by Dr. Desmond Mortley
During spring 2018 four vegetable crops (squash, southern pea, tomato, and sweetpotato) with three varieties each were planted at the experiment station at Tuskegee University, North Carolina State University and Mississippi State University to investigate effects of three OMRI-approved organic pesticides on their yields. The organic pesticides tested were: Pyganic (Pyrethrin); Entrust (Spinosad); and Neemix (Azadirachtin) with active ingredients in parentheses. This report summaries preliminary findings at the Tuskegee University site.
Squash was direct seeded on May 14 and 15 and harvested for the first time on June 19. In all ten harvests were made.
Southern peas were direct seeded on May 15 and harvested on July 9 (first harvest). In all three harvests were made.
Tomatoes were transplanted on May 9 and 10 and harvested seven times with the first harvest on July 2.
Sweetpotato was slips were planted on June 1 and harvested on September 11 and 12.
The three pesticides had no effect on squash fruit yields, however, Spineless Beauty tended to yield better than Zephyr and Gentry.
Although no significant differences were obtained between the tomato varieties with regards to pesticide applications, the control plots of RockyTop and Mountain Magic yielded greater than their counterpart treated with Pyganic or Entrust.
No significant differences were found in southern pea varieties treated with the various pesticides or when compared with the untreated control plots. Unshelled and shelled pea yields were greater for Pinkeye purple Hull peas than for Mississippi Silver and Queen Anne (lowest yield). However, Pinkeye purple Hull had the thickest pod with the highest shelled grain yield.
During the growing period, the sweetpotato varieties were not sprayed because insect pest populations had not reached the threshold recommended for spraying. Therefore, differences in variety yields are not attributed to pesticide applications. The dry-matter yield of the three sweetpotato varieties do not vary greatly, however, the total sweetpotato storage root yields tended to be higher in treated plots than the control plots although the treatments were not sprayed. Further investigations revealed that deer have consumed most of the above ground biomass in the control plots. US #1 below ground storage root yields of the control plots were similar for Covington and Orleans but considerably lower for Garnet.
Funding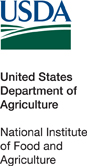 This project is funded by the Organic Research and Extension Initiative grant, part of the USDA National Institute of Food and Agriculture. Grant number 2016-51300-25725