ASAN Food and Farm Forum Call for Session Proposals
The 2020 ASAN Forum is scheduled for Dec 10-12 at Camp Beckwith in Fairhope.

REGARDING COVID-19:
We are proceeding with Forum planning in the hopes that it will be safe to gather in groups, come December. We are also proceeding with contingency plans in case it is not. We WILL NOT endanger any of our beloved community. With that said, we are excited to open our 2020 Session Proposal process!
Do you have the perfect idea for a session for this year's Food & Farm Forum / Youth Food & Farm Forum? We want to hear about it!

Apply to lead a session at the 2020 Forum!

Sessions are 50 minutes or 2 hours in length, and can be anything from a panel discussion to hands-on demo, roundtable discussion to a traditional presentation. Categories for topics include: Farming (Beginning and Advanced levels), Farm Business / Marketing, Community Food Systems / Food Movement, and "Green Living".

APPLICATION DEADLINE: Tuesday, July 7, 2020
Funding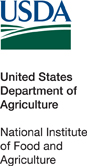 This project is funded by the Organic Research and Extension Initiative grant, part of the USDA National Institute of Food and Agriculture. Grant number 2016-51300-25725