Resources
Network focuses on adapting vegetables to thrive in Upper Midwest, Organic Broadcaster article by Cathleen McCluskey of the Organic Seed Alliance. November-December, 2020. Available at https://mosesorganic.org/publications/broadcaster-newspaper/plant-breedi...
On Farm Variety Trials: Toolkit for Risk Management of Organic and Specialty Crop Producers. These resources can help you plan, conduct, and evaluate on farm variety trials. It is the result of a is the result of a partnership between the USDA Risk Management Agency (RMA), Organic Seed Alliance (OSA), University Wisconsin-Madison, Oregon State Univeristy, eOrganic and the Midwest Organic and Sustainable Education Services (MOSES). Available at https://eorganic.org/node/24313
Participatory Plant Breeding Toolkit, Organic Seed Alliance. This toolkit includes a background on the theory and practice of PPB, case studies of successful projects, and worksheets to facilitate project planning and execution. Available at https://seedalliance.org/publications/participatory-plant-breeding-toolkit/
Funding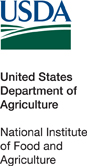 This project was funded in 2014 by the Organic Research and Extension Initiative grant, part of the USDA National Institute of Food and Agriculture. Grant number 2020-51300-32176.