Bell Peppers
Why is NOVIC breeding bell peppers?
Growers in the Northeast have expressed a need for early, high-quality, blocky red bell peppers. Many currently available varieties are not adapted to organic conditions and OP varieties are increasingly being replaced with expensive hybrids. In addition, many new varieties are only available as treated seed, excluding them from use by organic growers. NOVIC is breeding an open-pollinated (OP) bell pepper to fulfill this demand. Selection priorities will include early maturity, yield, fruit quality, and blockiness under organic management.
What is the breeding plan?
This pepper breeding program was begun at Cornell University in Summer 2015 by crossing cultivars "Ace" and "Aristotle" (both F1 hybrids). These varieties combine earliness, adaptation to the Northeast, and blockiness.

Fifty F1 progeny were grown in the Cornell greenhouses and allowed to self-pollinate during Winter 2015; seeds were saved from the twenty-two plants with the combination of blockiest fruit and highest percent soluble solids. In Summer 2017, these F2 families will be grown on the Cornell University Freeville organic research farm and evaluated for earliness, yield (in marketable count and weight), fruit shape & size, and percent soluble solids. The best plants will be brought into the greenhouse for seed production. This will repeat two more times to continue pedigree selection to the F4 stage. F5 seed will be produced in Winter 2018 and trialed in Summer 2018.
Which varieties are included in the trials?
Listed below are pepper varieties tested in years 2015 and 2016 of the project. The trials included varieties of roasting peppers in addition to bell peppers. Visit the Organic Variety Trial Database to view trial results on the varieties below.
2015 Varieties
Ace
Aristotle
King of the North
Red Knight
Revolution
Procraft
Corna di Toro
Bridge to Paris
Carmen
Gypsy
Gypsy Queens
Stocky Red Roaster
2016 Varieties
Ace
Aristotle
Enza Zaden trial entry E20B
King of the North
Red Knight
Revolution
Corna di Toro
Bridge to Paris
Carmen
Stocky Red Roaster
Breeding population
Funding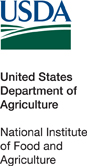 This project was funded by the Organic Research and Extension Initiative grant, part of the USDA National Institute of Food and Agriculture. Awards 2009-51300-05585 for NOVIC I (2009-2013), 2014-51300-22223 for NOVIC 2 (2014-2018) and 2018-51300-28430 for NOVIC 3 (2018-2022).