Events
Join NOVIC research partners at University of Wisconsin–Madison for the Organic Vegetable Research Showcase this August.
Join our Oregon NOVIC collaborators for their annual field day in Corvallis.
Funding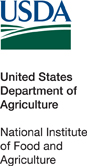 This project was funded by the Organic Research and Extension Initiative grant, part of the USDA National Institute of Food and Agriculture. Awards 2009-51300-05585 for NOVIC I (2009-2013), 2014-51300-22223 for NOVIC 2 (2014-2018) and 2018-51300-28430 for NOVIC 3 (2018-2022).