Recipes
Cooking with Naked (Hulless) Barley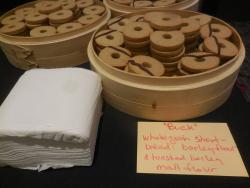 The way to go with food barley is naked (hulless). With a naked barley, at harvest the hulls separate from the seed - just like in wheat. Therefore, a hull-less barley grain is just like wheat grain - it can be milled into flour, flaked, steamed, or added to soups. Like wheat berries, barley berries will be crunchy if prepared directly. Cooking time can be reduced - and a fluffy rice-like consistency achieved - by light pearling (buffing) or cracking the grain. Buffing is easily done at home by running one cup of grain, on high, in a blender for 30 seconds. This will lightly pearl the barley - but no worries: you can still get the goodness of whole grain. Just sieve off the flour and use it for baking. You can also crack the barley in a stone mill set at its widest setting. Ask your local whole grains supplier for whole grain naked barley as is (for soups), buffed or cracked.
Flour, flakes, couscous and more: Naked barley, and pearled versions of barley with hulls, can be processed like any other grain.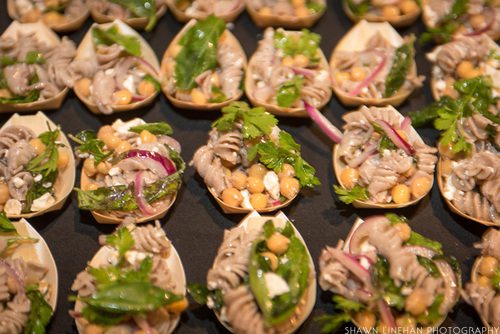 Steamed Grain: You can substitute barley in any recipe that calls for brown rice. For stove top cooking, use a ratio of 1 barley: 3 water. Bring barley/water mixture to a vigorous boil until water is almost gone. Cover pot and let rest with low (or no) heat for 20 minutes. Approximate cooking time - from start to finish - is ~ 40 minutes for 1 cup of barley. We've had great success with the Zojirushi SN-LAC05 rice cooker, using the brown rice setting. For risotto, follow the recipe instructions.
Pressure Cooker: To cook barley in a pressure cooker: use 4 cups water, 1 cup barley, and 1 Tbs oil. Bring to boil (cooker begins to hiss, rattle) turn heat to medium and then start timing for 18-20 mins. It ends up with some leftover water to drain. Makes almost 3 cups cooked.
Baked Goods: Since barley gluten does not have the strength and elasticity of wheat gluten, barley flour is belended with wheat flour in various ratios for risen breads. In quick breads an cookies, substitute barley for wheat at your pleasure.
Soups
Barley Zine Recipes
Check our resources page here to download our Spring 2020 Barley Zine, which contains recipes for breads, grain salad, crackers, desserts, and drinks!
New Recipes for Barley Milk, Barley-flavored Hazelnut Milk, Cookies, and Barley Flavored Kombucha!
Jordyn Bunting, graduate student at Oregon State University developed some new recipes for barley flavored milk and hazelnut milk, cookies, and even barley flavored kombucha using 'Streaker' barley flakes. Find them here.
Roasted Barley Tea
See our Resources page for the latest updates on our barley tea project including how to make it.
Find many more recipes on our barley recipe board on Pinterest! https://www.pinterest.com/Barley_World/barley-eats/
Naked Barley Beer
See our Resources page for a bulletin on 2 delicious beers made with 'Buck' naked barley!
Culinary Variety Showcase Photos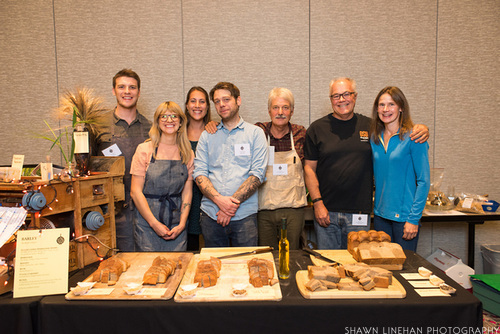 Members of the research team with chefs JoMarie Pitino of Ava Gene's, Dillon Debauche of Little T Baker, Niels Brisbane of Canlis, and Andrew Ross of OSU at the Culinary Breeding Network Variety Showcase in 2017. Culinary creations included pasta salad with barley and wheat fusilli, chickpeas, oregano and ricotta salata; barley bread, nixtamalized barley, orca beans and spruce powder, and dentelle d'orge (barley lace with Lovely's Fifty-Fifty malted barley ice cream and barley malt syrup! Photo credit: Shawn Linehan Photography.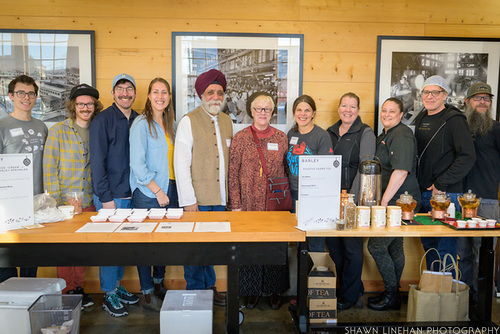 Researchers and collaborators at the 2020 Culinary Breeding Network Variety Showcase. Breeders: Brigid Meints & Pat Hayes, OSU; Farmers: Charlene Murdock, Nana Cardoon and Lyle Spiesschaert; Tea Maker: Veerinder Chawla, the Tao of Tea; Chefs: Jason Ball & Mike Adams of OSU Food Innovation Center; Jordyn Bunting of OSU Barley World; and Rebekah McGrath of Burgerville. Photo credit: Shawn Linehan Photography.
Funding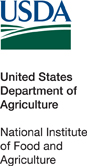 This project was funded in 2017 by the NIFA Organic Research and Extension Initiative grant, part of the USDA National Institute of Food and Agriculture: Grant number 2017-51300-26809. In 2020, a second grant, Developing Multi-Use Naked Barley for Organic Systems II was awarded funding: Grant number 2020-51300-32179.