Sept 25, 2018: Brew and Bake with Naked Barley in Brooklyn
GENERAL ADMISSION TICKET ($50) Click here to learn more and register
Tue, September 25, 2018, 4:00 PM – 6:00 PM EDT
Please join GrowNYC and the Greenmarket Regional Grains Project for this very special event exploring the region's first hull-less barley. This gathering will give professionals in the food and beverage sector, especially those with a keen interest in the development of regionally grown grains, the chance to learn how to work with an exciting new type of one of the oldest known domesticated crops.
Come hear about the first-year harvest of barley variety trials being grown as part of the three-year grant project, "Developing Multi-use Naked Barley for Organic Farming Systems," from GRGP and its research partners at Oregon State University and Cornell University. Taste malt "teas" with OSU's Brigid Meints. Learn about varieties like the aptly named "buck" and "streaker," and sample the culinary creations of food and crop scientist Dr. Andrew Ross of OSU.
Originally cultivated for human consumption, barley has become important for many uses over the millennia and is prized for its versatility. Its three main uses today are feed, food and malting. Barley is the fourth most important cereal crop in the world and the second most widely grown organic small grain in the United States. Through these trials and sensory evaluations, GRGP and its partners are working to bring new viable barley varieties to market, giving our farmers more options to diversify crops, and a broader palate of flavors for chefs, bakers and brewers to experiment with.
THIS IS AN EVENT GEARED TOWARD INDUSTRY PROFESSIONALS, SPACE IS VERY LIMITED FOR $50 GENERAL ADMISSION TICKETS
Funding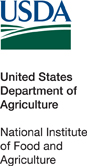 This project was funded in 2017 by the NIFA Organic Research and Extension Initiative grant, part of the USDA National Institute of Food and Agriculture: Grant number 2017-51300-26809. In 2020, a second grant, Developing Multi-Use Naked Barley for Organic Systems II was awarded funding: Grant number 2020-51300-32179.