Resources
Cornell Small Grains Trial Results
https://blogs.cornell.edu/varietytrials/small-grains-wheat-oats-barley-triticale/small-grains-cultivar-trial-results/
University of Maine Cooperative Extension Trial Results, Fact Sheets, Reports, Videos
https://extension.umaine.edu/grains-oilseeds/topics/
University of Vermont Extension Fact Sheets, Reports, Trial Results
Publications
Baker, Brian. 2018. Dehulling Ancient Grains: Economic Considerations and Equipment. eOrganic article. Available at https://eorganic.org/node/13028
Baker, B. and Russell, J. 2017. Capturing a Value-Added Niche Market: Articulation of Local Organic Grain. American Journal of Agricultural Economics, Volume 99, Issue 2, March 2017, Pages 532–545. Available at https://doi.org/10.1093/ajae/aaw100
Kissing-Kucek et al. 2016. Evaluation of wheat and emmer varieties for artisanal baking, pasta making, and sensory quality. Journal of Cereal Science. V74, March 2017, Pages 19-27. Available at https://www.sciencedirect.com/science/article/abs/pii/S0733521016305756.
Kissing-Kucek, L., Baker, B., Dawson, J., Benscher, D., Davis, M., Perry, R., Ross, G., Russell, J., Sorrells, M. 2014. Value Added Grains for Local and Regional Food Systems. Rahmann G. and Aksoy, U. Eds. Proceedings of the 4th ISOFAR Scientific Conference.;Building Organic Bridges', at the Organic World Congress 2014, 13-15 Oct., Istanbul, Turkey. Available at https://orgprints.org/24148/1/24148-Kucekal-2014_01_09-1_MM.pdf
Kissing-Kucek, L., L.D. Veenstra, P. Amnuaycheewa, M.E. Sorrells. 2015. A Grounded Guide to Gluten: How Modern Genotypes and Processing Impact Wheat Sensitivity. Comprehensive Reviews in Food Science and Food Safety. DOI:10.1111/1541-4337.12129.
Grains Week 2021 Final Report
Grains Week 2021 Final Report. Find the recordings and full program at https://eorganic.org/node/34576
Funding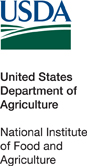 This project was funded in 2020 by the Organic Research and Extension Initiative, part of the USDA National Institute of Food and Agriculture, grant number 2020-51300-32379. A previous Value Added Grains project was funded in 2011, grant number 2011-51300-30697.